Siti Aishah Hassan, Ph.D.
SITI AISHAH HASSAN, PH.D. is an associate professor and lecturer in the Department of Counselor Education and Counseling Psychology, Faculty of Educational Studies, Universiti Putra Malaysia since 2006. She is actively involved in various research projects, especially those related to marital, couple and family counseling such as cybersex and intervention,marital confl ict, adjustment and satisfaction, parental spirituality and attachment, maternal spiritual characteristics and quality time, and parent-teacher collaborative models and on practice of Islamic psycho-spiritual approaches. She graduated with a B.A. in chemistry from the University of Missouri, St. Louis. She holds her doctoral and master's degrees from the International Islamic University Malaysia in guidance and counseling.
Dr Siti Aishah has been an active advocator for counseling profession and society development through her involvement in ten local and international non-profit organization and charitable works. She is a member of UPM Academic Staff Association (PPAUPM), Malaysian Counseling Association (PERKAMA) Psychometrics Association (MPA), American Counseling Association (ACA), Asian Psychological Association (ApsyA), Asia Pacific Counselor Association (APECA), Association of Spiritual, Ethical, and Religious Values in Counseling (ASERVIC). She is currently the president for Association of Muslima in Nurture and Advocacy (AMNA) and a Vice President of Malaysian Marriage and Family Therapy Association (MyMFT).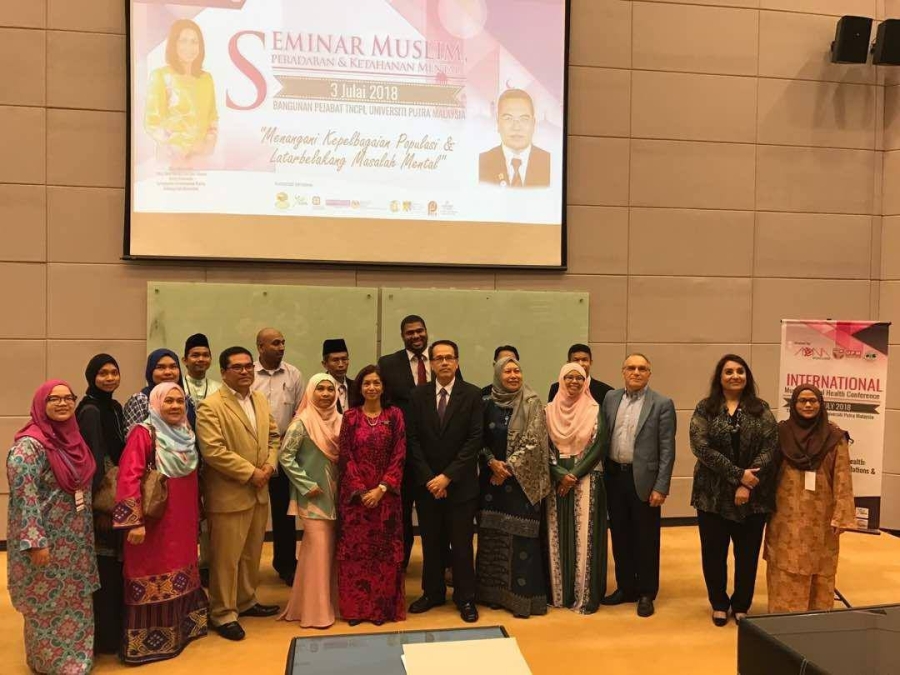 Siti Aishah Hassan in Malaysia at the Global Muslim Mental Health Conference in 2018.  Her presentation was titled, "Muslims' Marriages & Divorces."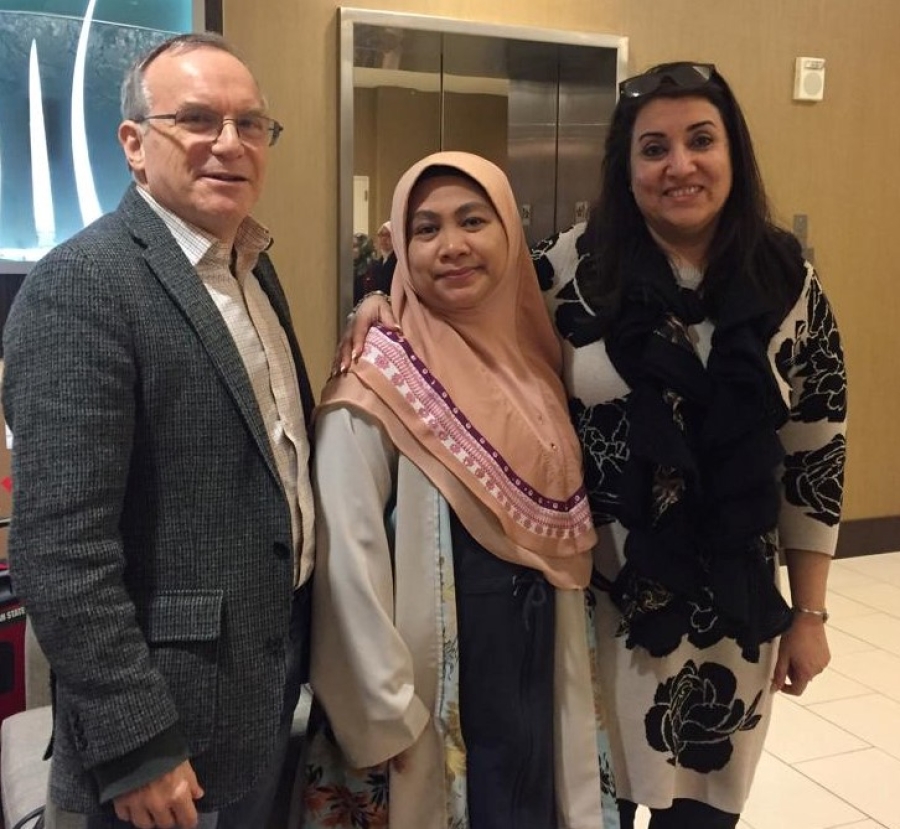 Siti Aishah Hassan presented at the 10th Annual conference in Washington DC in 2018.   Her talk was titled, "Eff ectiveness of Empirical Evidence-Based Islamic Intervention for Post Traumatic Stress Disorder among the Poor and Vulnerable Malaysian."  Pictured with her is Dr Magen and Dr Abbasi of Michigan State University.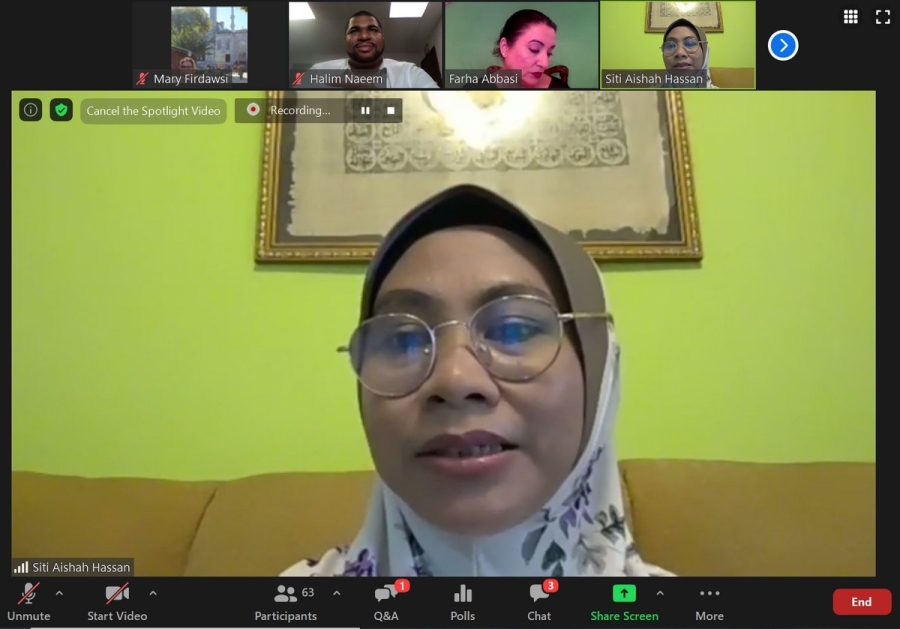 Dr Siti Aishah participates in a panel on Parents' role in Preventing Suicide 2020_08_19 hosted by Michigan State Univerisity and the Universiti Putra Malaysia.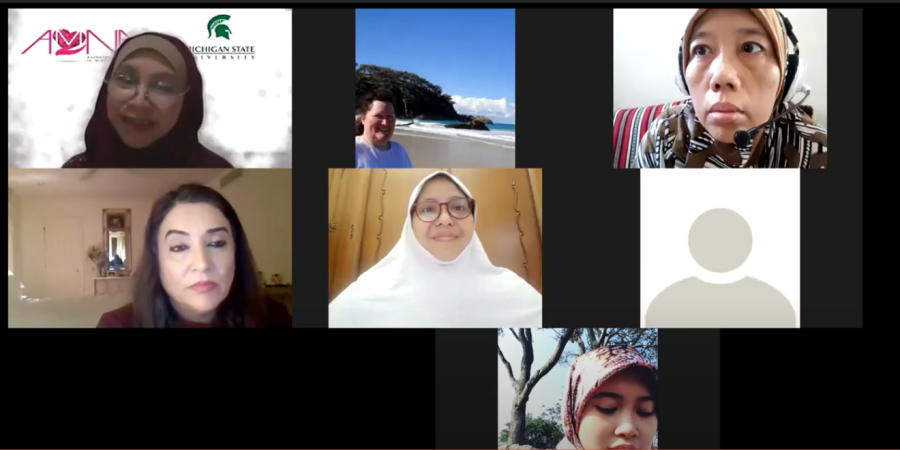 Dr Siti Aishah Hassan is a panelist on the webinar, "Navigating Mental Health during COVID-19," along with Dr Farha Abbasi
Navigating Mental Health during COVID-19 webinar presented by Dr Farha Abbasi of Michigan State University and Dr Siti Aishah Hassan from Universiti Putri Malaysia and Association of Muslima For Nurture and Advocacy and Michigan State University
Suicide Prevention: The Parents Role Presented by Association of Muslima in Nurture and Advocacy & Michigan State University
Dr. Siti Aishah Hassan Associate Professor, Faculty of Educational Studies Universiti Putra Malaysia
Dr. Halim Naeem Psychologist, Leader in the Muslim Mental Health Movement
Dr. Farha Abbasi Assistant Professor, Department of Psychiatry Michigan State University
Bibliography