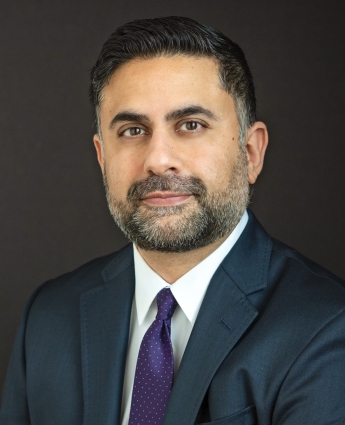 Javeed Sukhera, MD, DABPN, FRCPC
Dr. Javeed Sukhera is the Chair of Psychiatry at the Institute of Living and Chief of the Department of Psychiatry at Hartford Hospital in Hartford, Connecticut. Dr. Sukhera comes to Hartford HealthCare from Western University in London, Ontario, Canada where he held various clinical and academic leadership roles. He graduated from the University of Toronto and Ben-Gurion University and completed his residency and child/adolescent fellowship training at the University of Rochester in Rochester, New York.
He completed his PhD in Health Professions Education from Maastricht University. He is an internationally recognized health professions education researcher. His research program explores novel approaches to addressing stigma and bias among health professionals and he has also been involved in advocacy and cross-sectoral work in education, policing, and community services.
---
Dr. Javeed Sukhera, Associate Professor of Psychiatry at Schulich School of Medicine, Western University; Chair of London Police Services Board "Bias in the Mirror: Exploring Implicit Bias in Health Professions" (2020)
Javeed Sukhera of Western University presents on diversity and inclusion research at the meeting on Establishing Clinician Well-Being as a National Priority.
Mark is joined by Javeed Sukhera, Professor of Psychiatry and Paediatrics at Western University and President of the Ontario Psychiatric Association. They discuss why he chose psychiatry and the stigma that psychiatrists sometimes face, and how he treats mental health as both a social issue and a biomedical one. (2020)
Meet Dr. Javeed Sukhera. He a child and adolescent psychiatrist in London and an Associate Professor at UWO. Dr. Sukhera shares his expertise and wisdom for parents and caregivers on supporting the mental health of children and youth during these challenging times.
Coffee With Kelly featuring Dr. Javeed Sukhera (2020)
Bibliography