14th Annual Muslim Mental Health Conference (2022)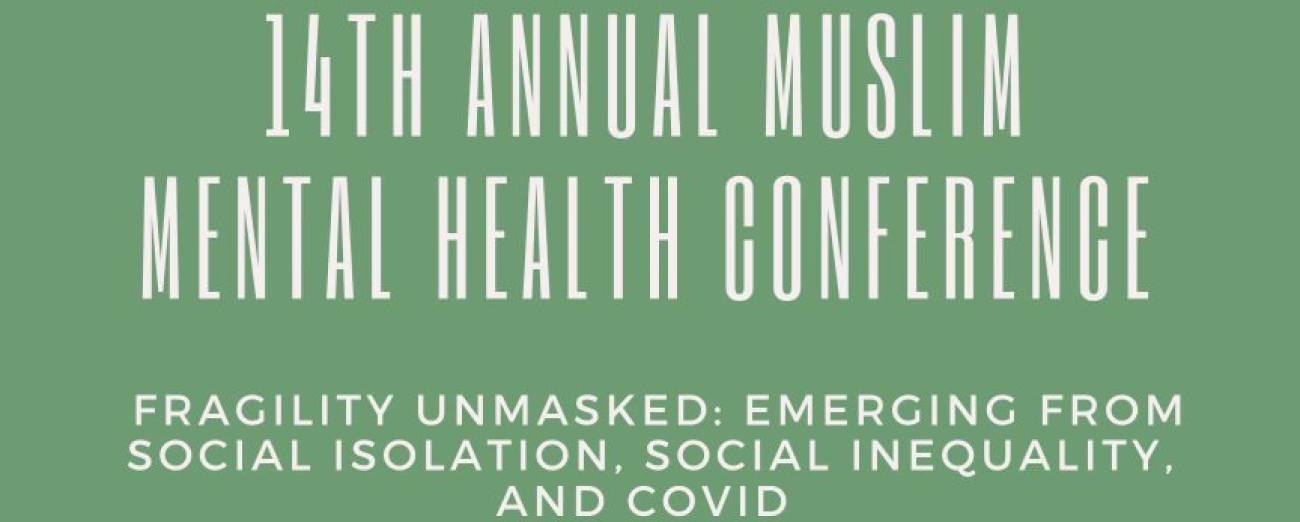 The 14th Annual Muslim Mental Health Conference was held at Yale University and virtually March 25-26, 2022.  Over 200 people attended in person and another 200 were online from over 20 countries.
The unprecedented challenges of the COVID-19 pandemic and the subsequent global lockdowns continue to unmask our fragilities, long existing social inequalities, and have had a profound impact on society and our mental health as life continues to transition and shift. Our knowledge of the impact of the pandemic is evolving, will continue to expand, and the lessons for how we have adapted need to be highlighted. In this year's conference, we invite conversations on how COVID-19 has impacted your practice: what insights have you gained, how has your practice shifted, what is emerging from the research, and what visions do we have for the future of the mental health field in the era of COVID-19? We welcome insights from practitioners, community organizations, researchers, and religious leaders, thus seeking diverse perspectives of the ways in which COVID-19 has served as a mirror for our vulnerabilities, and the ways in which we have responded and risen to the occasion.
Videos of the conference sessions may be found here.
Photos of the conference may be found here.
Oral and Poster presenters' bios are found here.
Full abstracts can be viewed here.
Co-Hosts and Sponsors
The Michigan State University (MSU) Department of Psychiatry, the Institute for Muslim Mental Health, Institute of Living-Hartford Hospital, and Yale Global Mental Health Program.
Keynote Speech by Dr. Juliane Hammer - Islam as Resource and Roadblock: Working against Domestic Violence in Muslim Communities
14th Annual Muslim Mental Health Conference March 25-26, 2022 Yale University and Online
Michigan State University Department of Psychiatry
Professor Juliane Hammer  is an Associate Professor at the University of South Carolina Chapel Hill in the Department of Religious Studies.  Her research interests include gender and sexuality in Muslim communities and societies; American Muslim communities, focus on race and gender; Intersectional studies of American religious communities; feminist studies in religion, Islamic and Muslim feminisms; activism as religious practice in Muslim contexts; theory and method in the study of Islam; Sufism and food; modern and contemporary Muslim approaches to the Qur'an; and gender, marriage, and sexuality in religions.
Substance Abuse & Mental Health Panel
14th Annual Muslim Mental Health Conference
1:10 Public Stigma Towards Substance Use in the Arab American Community - Hala Mallah, LLMSW & Mona Hijazi (IP)
30:36 A Narrative Review of Substance Use and Abuse Research in Muslim Populations From 1979 to 2021 - Mona Midani & Taimur Kouser (IP)
53:03 Discussant: Cynthia Arfken, PhD (Z)